If you want to get your hands dirty with a quick project, grab a tube of Rub 'n Buff and get down!
This metallic finish adds pop and luster to your ordinary knick knacks. My mom and I decided to add some shine to an ordinary garden ornament and we finished quickly and loved the result! We hope you do too! (If you don't want to get silver fingers, don't apply directly to your fingers. Use a soft cloth for application.)
BE INSPIRED!
It's Time to Mingle!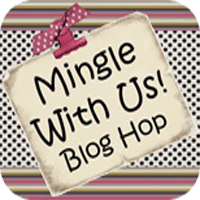 Hosted by
All About Being Inspired
,
Happy Go Lucky
,
Joy in the Jumble
and
Keeping Up With Kristi
Each week we will choose one blog at random to spotlight at the next week's blog hop. This weeks guest host is
It's Sweet's Life
There are no rules to this blog hop. Just link up your blog's main page. Then have fun reading new blogs and making new blog friends. We would love for you to follow the hostesses in the first four spots and our guest host in the fifth spot. We always follow back!!
Grab our button if you want to share our blog hop with others. There will be a new list every Thursday, so be sure to come back every week.
We hope you have fun and thanks for joining us! We are so excited to find new blogs, share great ideas, and inspire each other.